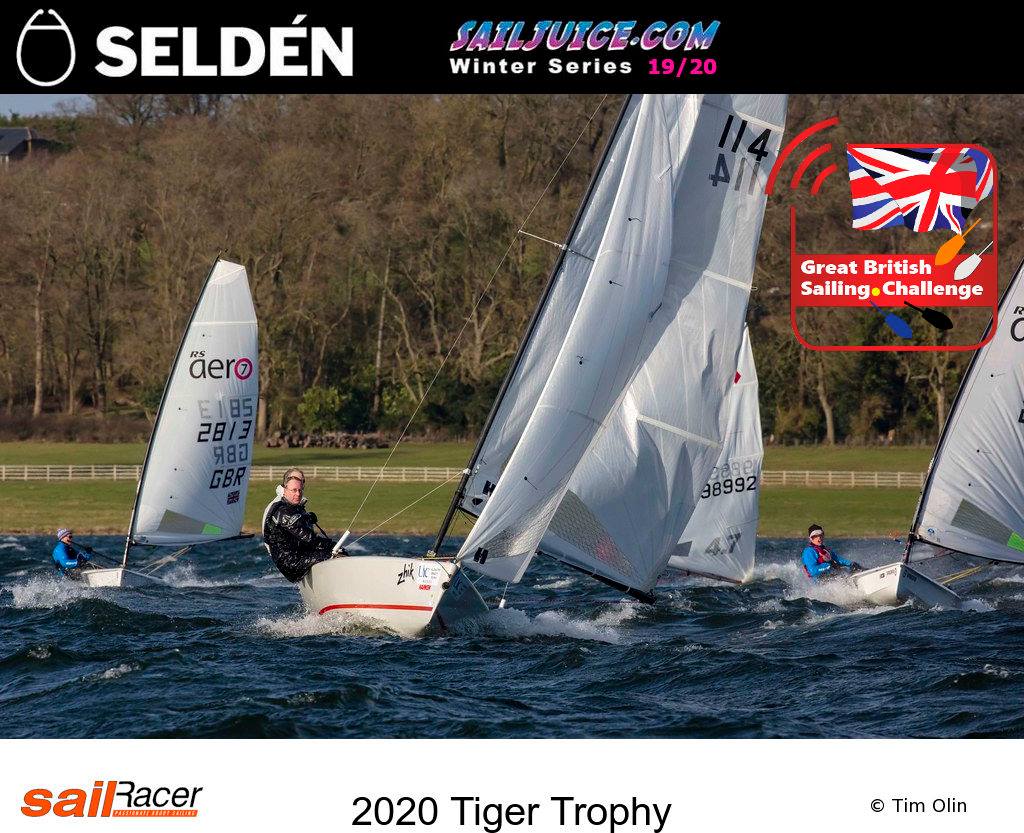 Neil Marsden and Jonny McGovern put the 420 hammer down to beat an entry of 148 in nuclear winds at Rutland Water's Tiger Trophy, seventh event of the Seldén Sailjuice Winter Series...
Neil Marsden and Jonny McGovern stormed to victory in their 420 at what many competitors described as an 'epic' Tiger Trophy, the seventh event in this season's Seldén Sailjuice Winter Series. While there were 148 entries, Saturday's three back-to-back races were among the windiest ever contested in the 11-year history of this Series, with gusts up to 35 knots. In those conditions, only the bravest and most experienced would be able to cope. Marsden and McGovern won a breezy Tiger last year and with the wind even fiercer for 2020, the 420 proved itself the perfect weapon for survival conditions.
Marsden and McGovern won the first race of the day, but they were pipped to first place in the next by reigning National and European 505 Champions Roger Gilbert and Ben McGrane. However, with a DNC against Gilbert's scorecard, it was left to another 505 - wife/husband duo Penny and Russ Clark - to take up the reins. With only two of the three scheduled races taking place on Saturday, the Clarks were lying in second behind the runaway 420 at the end of day one, with a 2,4 scoreline compared with Marsden's 1,2.
Winner of the previous weekend's Sailjuice event, the King George Gallop in North London, Jon Emmett raced his Laser Radial very effectively around the quadrilateral course to notch up some very useful scores of 5,3 to sit in third place overnight. Not bad for a hiking boat!
Results
There were some very tired bodies that dragged themselves to the Tiger Dinner on the Saturday evening at Rutland Sailing Club. Everyone enjoyed the traditional bangers & mash with peas and onion gravy - the late John Merricks' favourite meal. Rutland's most celebrated sailor won the very first Tiger Trophy more than 20 years ago in a 420 before going on to win an Olympic silver medal in the 470 at the 1996 Games. Jonny's crew, Ian Walker, hosted a Q&A session with guest panellists Penny Clark, Jon Emmett, Nick Craig and Neil Marsden, all of whom shared their secrets to high-wind survival. Principal race officer David Wilkins ran an auction of some rare and coveted prizes brought almost £1,000 for the John Merricks Sailing Trust. Prizes and Auction items were kindly donated by Ben Ainslie, Henri-Lloyd, Dubarry, Musto, Rooster, Seldén and Everards. The Everards 'Happy Hour' - with Tiger Beer being sold for just £2 per bottle - also raised money for the Trust which seeks to give young sailors a financial boost towards their campaigns.
The following day saw more strong breeze for the two-hour Pursuit Race. Once again the Marsden/ McGovern 420 could not be stopped, although they were pushed hard by a rival 420 sailed by Arran Holman and former 420 World Champion helmsman Steve Irish on the wire. These two held off the chasing pack for first and second across the line, followed by the 29er of Michael and Samuel Dyer. Hugh Shone/ Ben Whaley also did well in the RS800, coming 5th across the line ahead of former winners of the Tiger Trophy and the Sailjuice Winter Series in the same year, reigning Fireball World Champions Ian Dobson and Richard Wagstaff. However, few of the frontrunners had been able to avoid letters in their score on the attritional Saturday, leaving the way clear for the Clark's 505 to come second overall after crossing the Pursuit Race finish in 8th. In third overall were last year's runners up at the Tiger and overall champions of the Seldén Sailjuice Winter Series, Simon Horsfield and Katie Burridge in their 2000.
SailRacer GPS Tracking
The 2000 was one of a surprising number of hiking boats that made the top 10. In fourth was Emmett's Radial, followed by former Sailjuice Champions Tom Gillard and Rachael Rhodes in a Scorpion, and Pete Barton in an RS Aero 7. The spread of ages in the top 10 is also impressive, ranging from Jamie Tylecote (10th in a Laser 4.7), born 2005, to the winning helmsman Neil Marsden, born 1961. What a great advertisement for sailing as a sport for life.
Gallery
While the 420 ran away with the Tiger, probably the real reason why there was such a range of boats in the top 10 was the fact that this was survival racing that demanded skills of the highest order. Keeping the boat in one piece was no easy task. With only two races on the Saturday, there was no discard, making all three races countable in the final scores. Many top class sailors finished some way down the order, not managing to achieve the consistency needed to win in such trying conditions. But the fact that so many got round the course at all is a testament to the high standard of UK dinghy racing.
A number of sailors made a point of thanking principal race officer Dave Wilkins, himself an Olympic silver medallist, for having the courage to put on the racing in such severe conditions, and thanks to his experienced RSC team the racing was able to go ahead. Not for nothing is this known as the Tiger Trophy. 505 champion Ben McGrane's comments were typical of what many said after such an epic weekend. "Well done to Rutland Sailing Club. Very few clubs would have run Saturday's races in those conditions but I'm very glad they did. Seriously good fun!"
The final event of the Seldén Sailjuice Winter Series takes place at Farmoor Reservoir near Oxford on Saturday 15 February. The past couple of years have seen the Oxford Blue sell out to its 150-boat capacity and with most of this season's events booking out in advance, it's best to get your entry nailed while you can at: www.sailjuiceseries.com
The prizegiving for the Seldén Sailjuice Winter Series takes place at 1015am soon after doors open on Saturday morning of the RYA Dinghy Show. After Oxford we'll find out who gets to take the top step of the podium at Alexandra Palace on 29 February.
THE EVENTS
The following events are in the Seldén SailJuice Winter Series 2019/20):
Fernhurst Books Draycote Dash, Draycote Water Sailing Club
Datchet Flyer, Datchet Water Sailing Club
Brass Monkey, Yorkshire Dales Sailing Club
Grafham Grand Prix, Grafham Water Sailing Club
Bloody Mary, Queen Mary Sailing Club
King George Gallop, King George Sailing Club
John Merricks Tiger Trophy, Rutland Sailing Club
Oxford Blue, Oxford Sailing Club
Prizegiving, RYA Dinghy Show, Alexandra Palace
1015am Saturday 29 February 2020
You can find out more about the Series here: www.SailJuiceSeries.com
Further Information for media:
Please contact Andy Rice
email: info@sailjuice.com
Phone: 020 8133 9330
Website: www.sailjuice.com
Photo Credits: Tim Olin
Notes to editors:
Current and previous winners of the Seldén Sailjuice Winter Series
2018/19
Simon Horsfield & Katie Burridge (2000)
2017/18
Alistair Goodwin (Laser)
2016/17
Matt Mee & Emma Norris (RS200)
2015/16
Ian Dobson & Andy Tunnicliffe (GP14)
2014/15
Nick Craig & various crews (Merlin Rocket)
2013/14
Michael Sims (Solo)
2012/13
Tom Gillard & Simon Potts (Fireball)
2011/12
Peter Gray & Rachael Rhodes (Scorpion)
2010/11
Andy Peake (Musto Skiff)
2009/10
Olly Turner & Richard Whitworth (Merlin Rocket)
SailJuice.com is the 'how to sail and race faster' website, with hundreds of articles and exclusive interviews with National, World and Olympic Champions. Professional sailing journalist and editor of SailJuice.com, Andy Rice, came up with the concept of the SailJuice Winter Series (originally known as the SailJuice Global Warm-Up) as a way of increasing participation levels in dinghy racing during the off-season in the UK.
SailRacer manages event websites and processes online entry for major National, International, Youth and training events, providing online scoring, analysis and advanced sports presentation including GPS tracking and live video.
Seldén Mast Ltd is the world leader in dinghy spars. More races are won by Seldén Spars than any other brand. Dinghy spars are made using our unique XPS aluminium with CNC cut tapers, automated welding and heat treating resulting in the highest quality and most consistent dinghy spars available. Seldén produces about 400 carbon masts per year for boats including high performance dinghies and race yachts using state of the art Mandrel Filament Moulding Technology.
4/2/2020 19:47