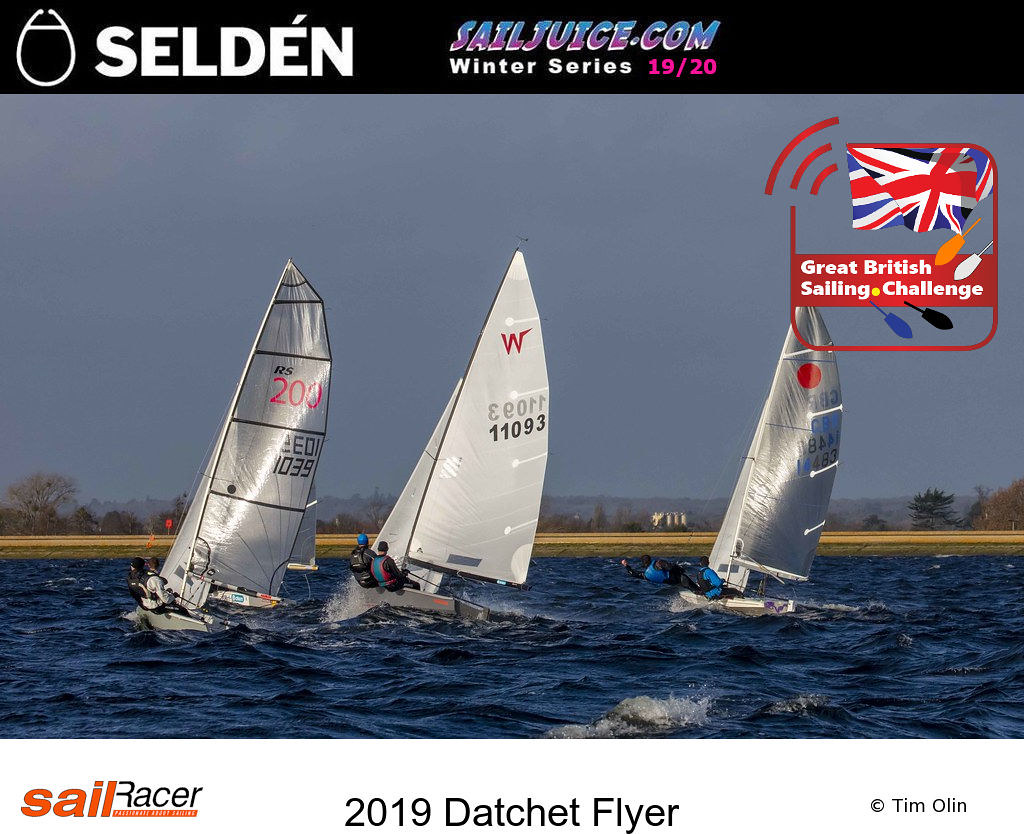 Pete Barton made history, winning round 2 of the Seldén Sailjuice Winter Series against a maximum capacity fleet of 100 at Datchet Water.
Pete Barton raced his RS Aero 7 to victory at the Datchet Flyer, the second round of the Seldén Sailjuice Winter Series. It's the first time that an Aero has won a Sailjuice event outright. Barton, from Lymington, was very consistent through Saturday's three races, finishing 2,2,1 in the moderate breezes around a trapezoid course.
GPS Tracking >>> The Pursuit Race got going on the Sunday morning in breeze gusting over 20 knots. When the wind kicked up to over 30 knots, there was carnage across the race course and it was becoming dangerous for the competitors and the rescue crews, and the race had to be abandoned. The outing wasn't a complete waste, however, as the SailRacer GPS trackers were recording boat's maximum speeds. One of the top performers was that man again, Pete Barton, recording sustained speeds of over 14 knots in his RS Aero and hitting a peak speed of 17 knots. But with Sunday abandoned, it would be Saturday's races that determined the overall outcome of the competition, attended by a maximum entry of 100 boats representing 42 different dinghy classes from 52 sailing clubs.
Results >>> Finishing in second place overall was the Datchet Wayfarer sailed by Andrew and Tom Wilson who won the middle race of the day. Scoring equal points were the GP14 of Pete Gray and Shandy Thompson along with the RS800 of Hugh Shone and Fiona Hampshire, the first trapeze boat on the leaderboard. However it was the GP14's 2nd place in the final race that broke the tie and gave Gray and Thompson the final spot on the podium.
Nick Craig and Arthur Henderson were 5th overall and second GP14, just beating the B14 of Mark Barnes and Pete Nicholson on tie-break. There were eight different classes in the top 10 with the GP14 and RS800 represented twice in the top flight. As well as diversity of boats, there was more than a 30-year spread of ages of the helms in the top 10, with ages across the fleet spanning from 11 to 79 years old.
First female was Ann Jackson who four years ago sailed her Enterprise to outright victory at the 2015 Datchet Flyer. Sailing again with her crew Alan Skeens, this time Jackson had to settle for 15th overall, finishing on equal points with last year's overall winners of the Seldén Sailjuice Winter Series, Simon Horsfield and Katie Burridge racing their 2000. Competing in a strong Topper turnout, Datchet sailor James Crossley was first of the youth singlehanders in 19th overall.
There's a great sense of camaraderie among the Sailjuice competitors, especially on a challenging day like the Sunday, when everyone pitched in to help each other launch and recover. The Dunkirk spirit was there for everyone to see, as this excerpt from the Challenger class report points out: "Great excitement, wonderful experience, very challenging and equally exhausting. Thanks to the help of many fellow sailors and their own shore crew, Jack [Alderdice] and Val [Millward] arrived safely back on the shore no damage and all in one piece!" Read the full report here: https://www.facebook.com/ChallengerClassAssociationCommunity/posts/3673699502657138)
Series Results >> After two of the eight events completed, it's former Sailjuice Winter Series winner Pete Gray who holds the top spot. Currently there are four former Series winners in the top 10, proving that some people just can't get enough of cold-weather competition!
Run your Class Championship as part of one of the events
In case you hadn't already thought of it, why go to the hassle of organising your own class event when you can run it within one of the events in the Seldén Sailjuice Winter Series? Here's a few examples of classes that have already taken advantage of this season:
Hadron H2 - Inlands (Dash)
Blaze - Fire Cup (Datchet Flyer)
RS Aero - Winter Championships (Oxford)
OK - Winter Championships (Oxford)
Contact Simon Lovesey if interested in discussing using a SailJuice Winter Series event for a class championship and/or class winter series: simon.lovesey@sailracer.co.uk
The next event in the Series is one that usually books out early, the Yorkshire Dales Brass Monkey on 27 December. So be sure to get your entry in soon. If you miss that one, there's still the Grafham Grand Prix two days later on 29 December, although even Grafham maxed out last year too! See the calendar below, and enter here:
www.sailjuiceseries.com
THE EVENTS
The following events are in the Seldén SailJuice Winter Series 2019/20):
Fernhurst Books Draycote Dash, Draycote Water Sailing Club
23 & 24 November 2019
Datchet Flyer, Datchet Water Sailing Club
7 & 8 December 2019
Brass Monkey, Yorkshire Dales Sailing Club
27 December 2019
Grafham Grand Prix, Grafham Water Sailing Club
29 December 2019
Bloody Mary, Queen Mary Sailing Club
11 January 2020
King George Gallop, King George Sailing Club
26 January 2020
John Merricks Tiger Trophy, Rutland Sailing Club
1 & 2 February 2020
Oxford Blue, Oxford Sailing Club
15 February 2020
Prizegiving, RYA Dinghy Show, Alexandra Palace
1015am Saturday 29 February 2020
You can find out more about the Series here: www.SailJuiceSeries.com
Photo Credits: Tim Olin
Notes to editors:
Current and previous winners of the Seldén Sailjuice Winter Series
2018/19 Simon Horsfield & Katie Burridge (2000)
2017/18 Alistair Goodwin (Laser)
2016/17 Matt Mee & Emma Norris (RS200)
2015/16 Ian Dobson & Andy Tunnicliffe (GP14)
2014/15 Nick Craig & various crews (Merlin Rocket)
2013/14 Michael Sims (Solo)
2012/13 Tom Gillard & Simon Potts (Fireball)
2011/12 Peter Gray & Rachael Rhodes (Scorpion)
2010/11 Andy Peake (Musto Skiff)
2009/10 Olly Turner & Richard Whitworth (Merlin Rocket)
SailJuice.com is the 'how to sail and race faster' website, with hundreds of articles and exclusive interviews with National, World and Olympic Champions. Professional sailing journalist and editor of SailJuice.com, Andy Rice, came up with the concept of the SailJuice Winter Series (originally known as the SailJuice Global Warm-Up) as a way of increasing participation levels in dinghy racing during the off-season in the UK.
SailRacer manages event websites and processes online entry for major National, International, Youth and training events, providing online scoring, analysis and advanced sports presentation including GPS tracking and live video.
Seldén Mast Ltd is the world leader in dinghy spars. More races are won by Seldén Spars than any other brand. Dinghy spars are made using our unique XPS aluminium with CNC cut tapers, automated welding and heat treating resulting in the highest quality and most consistent dinghy spars available. Seldén produces about 400 carbon masts per year for boats including high performance dinghies and race yachts using state of the art Mandrel Filament Moulding Technology.
9/12/2019 18:45