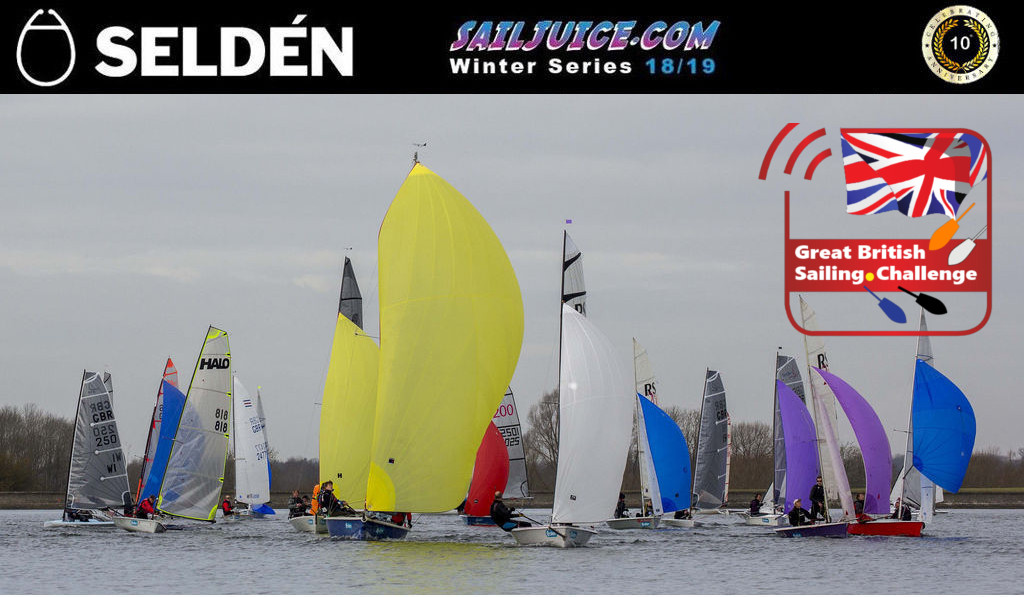 The seventh and final round of the Selden SailJuice Winter Series, the Oxford Blue, takes place on Saturday. With the entry list maxed out at 150, Farmoor Reservoir will be a sea of colour as the top eight in the Series prepare for a battle for the overall podium....
Eight different classes of boat are in contention for the podium of the Selden SailJuice Winter Series, with tomorrow's Oxford Blue set to sort out who will make the top three and who will miss out.
Simon Horsfield and Katie Burridge from the Army Sailing Association are strongly positioned for overall victory in their 2000 dinghy, while behind them there are all kinds of permutations. Currently best of the rest is last year's overall champion Alistair Goodwin who sailed his Laser to victory a year ago at the 2018 Oxford Blue. In third are Colin and Oly Murray racing their souped-up Norfolk Punt which has competed at all seven events throughout the winter season. In fourth is Ben Schooling, another former winner of the Oxford Blue who will fancy the moderate airs forecast for Saturday.
The National 18s are out in force for Oxford, with four of these magnificent beasts set to fight it out between them. Also on Peter Gray's mind will be a place on the podium, having won the overall Series way back in 2011/12 at the helm of a Scorpion. The 420s have made a strong showing this winter, a welcome injection of youth talent into the Selden SailJuice Winter Series, and in podium contention are youth sailors Megan Ferguson and Bettine Harris. Winner of the storm-force Datchet Flyer at the end of 2018 was reigning RS600 National Champion Richard Smith who will be angling for a top three overall, as will Solo competitor Tom Gillard, the former Fireball World Champion who won this Series in his Fireball in 2012/13.
As usual, the Selden SailJuice Winter Series provides a place for all types of small sailing craft to race each other under one of the fairest handicap systems yet devised, the Great Lakes numbers, a variation of the RYA's PY numbers. Making a rare appearance, just a few weeks before Brexit, is a fleet of five Europes. There'll be some battles within the bigger battle between the three K6 and three K1 keelboats, and almost 50 RS Aeros using the Oxford Blue to contest their Winter Championship.
SailRacer GPS Tracking
With GPS tracking provided by SailRacer, spectators will be able to watch the action unfold and competitors can analyse their performance afterwards. The Oxford Blue is also a qualifier in season one of the Great British Sailing Challenge which launched at the end of last year and reaches its climax with the Grand Final at Rutland Water this September.
Here's a round-up of some of the other series within the Selden SailJuice Winter Series...
Sailing Chandlery Top Class Rankings
The penultimate round of the Selden SailJuice Winter Series saw a big shakeup in the Sailing Chandlery Top Class Rankings, with defending champions the Solo Class dropping five places from the top spot. Fireballs jumped 1 place to now lead the rankings and previous leaders the Blazes up 1 to second with Radials also up one to complete the podium. With the top 3 results for each class across every race to count, the possible points are very close across the top 6.
Youth and Junior Rankings
It was great to see such a big youth turnout at the John Merricks Tiger Trophy, accounting for nearly a third of the overall entry and taking three of the top ten places. The 420 of Jack Lewis and Fraser Hemmings (Draycote Water SC), were top youth team at Rutland. For the overall rankings the 420s have moved into the top 2 spaces, with Megan Ferguson and Bettine Harris leading and 10 year old Harry George the youngest Selden SailJuice Winter Series competitor, in second. Class and club members Lydia Barber and Jamie Mason, sailing Radials from Blithfield SC are third and fourth respectively.
Trident Top Club Rankings
Former winners Burghfield SC consolidated their lead as we head into the final round of the Selden SailJuice Winter Series with Chase SC and Staunton Harold in second and third places.
GUL Top Lady
The ladies had a good outing at the Tiger Trophy taking 2 of the top 10 places, with the 420s of Eleanor Keers and Faye Chatterton (Itchenor SC), and Megan Ferguson and Bettine Harris (Frensham Pond SC), 1st and 2nd respectively on extracted GUL Top Lady results. Jess Lavery sailing with two-time Olympic Medallist Ian Walker in the original 1996 silver medal winning 470, which Ian crewed for the late John Merricks - of whom the Tiger Trophy is a celebration as well as being an important fundraising event for the John Merricks Sailing Trust. For the overall GUL top lady rankings the current 420 class national lady champion Megan Ferguson moves up 1 to lead with previous winner Eleanor Craig (Draycote SC, Radial) dropping to second and Val Millward (Rutland SC, Challenger) up 1 to third.
Great British Sailing Challenge
With SailRacer providing GPS tracking at Rutland, the Tiger Trophy became the 4th GBSC qualifier. Neil Marsden and Jonny McGovern achieved the best GBSC Performance Index in R3. Overall Sam Mettam (Fireball) still holds onto top spot. Across the four divisions, Colin Murray (Norfolk Punt) tops the Fast Asymmetric Group, Sam Mettam Fast Symmetrics, Jonny McGovern (RS200) Slow Asymmetrics and Alistair Goodwin (Laser) slow symmetrics. Eddie Bridle (Int Moth) has shown the most progress. Across the age groups Jack Lewis (420) is top youth, Sam Mettam (Fireball) top 19-55 and Neil Marsden (420) top Master.
SpeedSix Challenge
With winds gusting 20 kts at Rutland, the SailRacer GPS trackers recorded some high speeds on the Saturday. The foiling Moths dominated the SpeedSix Speed Wall, with James Sainsbury fastest, Matt Lee 2nd and Tom Lambert 3rd. On an adjusted basis the 2000 of Simon Horsfield and Katie Burridge (ASA) were fastest, with Sam and John Knight (RS400, Bartley SC) and Arran Holman and Pablo Garcia (420, Hollowell SC) third
For more info on the Selden SailJuice Winter Series, go to www.sailjuiceseries.com
THE EVENTS
The following events constitute the Seldén SailJuice Winter Series 2018/19:
Fernhurst Books Draycote Dash, Draycote Water Sailing Club
17 & 18 November 2018
Datchet Flyer, Datchet Water Sailing Club
8 & 9 December 2018
Brass Monkey, Yorkshire Dales Sailing Club
27 December 2018
Grafham Grand Prix, Grafham Water Sailing Club
30 December 2018
Bloody Mary, Queen Mary Sailing Club
12 January 2019
John Merricks Tiger Trophy, Rutland Sailing Club
2 & 3 February 2019
Oxford Blue, Oxford Sailing Club
16 February 2019
You can find out more about the Series here: www.SailJuiceSeries.com
Photo Credits: Tim Olin
Notes to editors:
Current and previous winners of the Seldén Sailjuice Winter Series
2017/18 Alistair Goodwin (Laser)
2016/17 Matt Mee & Emma Norris (RS200)
2015/16 Ian Dobson & Andy Tunnicliffe (GP14)
2014/15 Nick Craig & various crews (Merlin Rocket)
2013/14 Michael Sims (Solo)
2012/13 Tom Gillard & Simon Potts (Fireball)
2011/12 Peter Gray & Rachael Rhodes (Scorpion)
2010/11 Andy Peake (Musto Skiff)
2009/10 Olly Turner & Richard Whitworth (Merlin Rocket)
SailJuice.com is the 'how to sail and race faster' website, with hundreds of articles and exclusive interviews with National, World and Olympic Champions. Professional sailing journalist and editor of SailJuice.com, Andy Rice, came up with the concept of the SailJuice Winter Series (originally known as the SailJuice Global Warm-Up) as a way of increasing participation levels in dinghy racing during the off-season in the UK.
SailRacer manages event websites and processes online entry for major National, International, Youth and training events, providing online scoring, analysis and advanced sports presentation including GPS tracking and live video.
Seldén Mast Ltd is the world leader in dinghy spars. More races are won by Seldén Spars than any other brand. Dinghy spars are made using 6082T6 aluminium with CNC cut tapers, automated welding and heat treating resulting in the highest quality and most consistent dinghy spars available. Seldén produces about 400 carbon masts per year for boats including high performance dinghies and race yachts.
15/2/2019 14:27