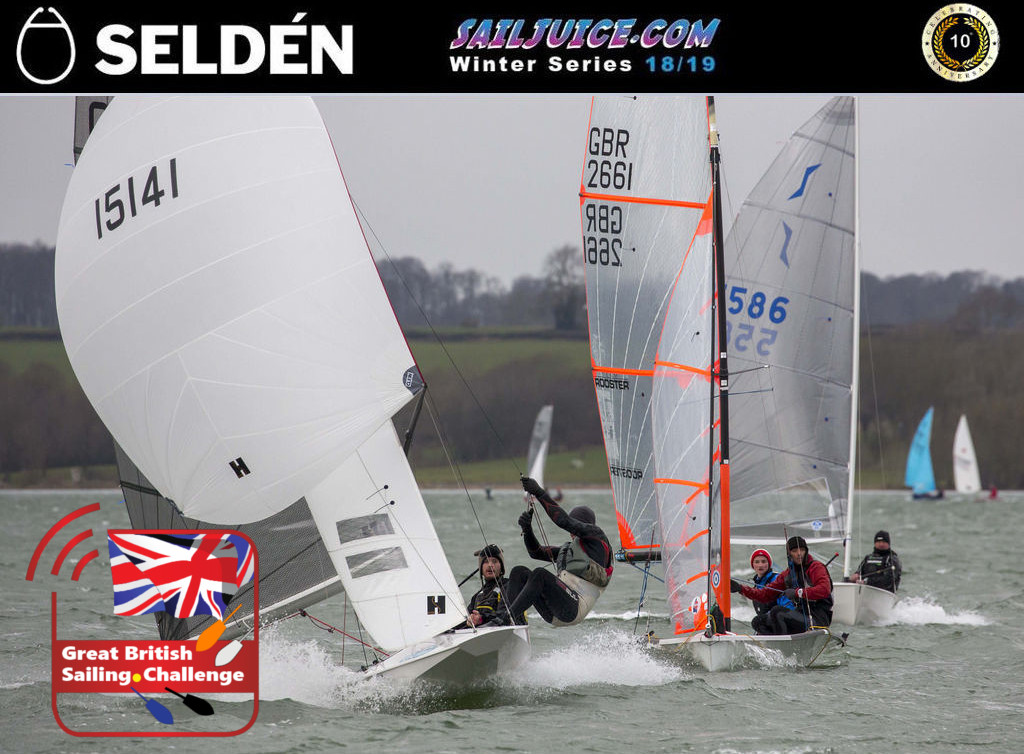 IAN WALKER AMONG THE 100+ ENTRIES FOR TIGER TROPHY. Round six of the Selden SailJuice Winter Series, the John Merricks Tiger Trophy, is looking set for a challenging weekend for Ian Walker and the other legends getting ready for racing, not least an unlikely appearance from the commissioner of Hazzard County...
The John Merricks Tiger Trophy this weekend at Rutland Water could prove the most challenging yet, as the Seldén SailJuice Winter Series reaches event six in the midst of an increasingly chilly start to 2019.
To get the early discounted entry, make sure you sign up at www.sailjuiceseries.com by this Thursday evening, to join in with more than 100 boats already registered for a weekend of tight, handicap competition. It looks set to be windy on Saturday and softer on Sunday for the no-discard Pursuit Race, so predicting a winner will be tricky.
The famous Tiger Dinner will be held on the Saturday with tickets costing £10. John Merrick's sailing partner, Ian Walker MBE, will be guest speaker. The charity auction will include signed items from Sir Ben Ainslie and his Americas Cup Team.
A Formula 18 has performed well on handicap at recent editions of the Grafham Grand Prix, so how will the smattering of multihulls fare at Rutland? What about Bo Duke who has cast aside his differences with Boss Hogg, as the unlikely duo from the Dukes of Hazzard open up the throttle on their souped-up Tornado? Or Max McCarroll and Rosie Turtle who are driving up from Weston to race their Spitfire?
Biggest and potentially hardest one-design battle in the fleet will be between the 20-plus 420s that have entered, a welcome return for the class from where the Tiger Trophy originated. Son of Rutland, the late Johnny Merricks, won the first ever Tiger a quarter of a century ago in a 420 and went on to win the 420 World Championships. Johnny also happened to win an Olympic silver medal in the 470, and his old crew Ian Walker is making a return to Rutland crewing for Jess Lavery in the very same 470 that he and Johnny won their silver medal.
There's some strong talent in the Fireball fleet, not least Dave Hall and Paul Constable who have attended every edition of the Tiger Trophy since it began 25 years ago. However, the current Fireball World Champion Matt Burge has teamed up with a past Fireball World Champion Vyv Townend to race in an Osprey together. Another former Fireball World Champion DJ Edwards is also racing an Osprey crewed by Mike Greig, and will provide a tough challenge for the son/father duo of Ben and Simon Hawkes from Castle Cove who are campaigning their way through all seven of the events on the Seldén SailJuice Winter Series.
As ever, the Series welcomes all kinds of small sailboats, with the National 18 and Norfolk Punt represented along with the Challenger trimarans, and two Moths, one foiling and one non-foiling.
The famous Tiger Dinner, tickets just £10, has the added draw of Ian Walker as guest speaker, followed by a charity auction that will include signed items from Sir Ben Ainslie and his America's Cup campaign, Ineos Team UK.
With SailRacer providing GPS tracking for the first time at the Tiger Trophy, this event will now also serve as a qualifier for the Great British Sailing Challenge which culminates with a Grand Final at Rutland Water in late September.
Enter the Tiger Trophy here: www.sailjuiceseries.com
THE EVENTS
The following events constitute the Seldén SailJuice Winter Series 2018/19:
Fernhurst Books Draycote Dash, Draycote Water Sailing Club
17 & 18 November 2018
Datchet Flyer, Datchet Water Sailing Club
8 & 9 December 2018
Brass Monkey, Yorkshire Dales Sailing Club
27 December 2018
Grafham Grand Prix, Grafham Water Sailing Club
30 December 2018
Bloody Mary, Queen Mary Sailing Club
12 January 2019
John Merricks Tiger Trophy, Rutland Sailing Club
2 & 3 February 2019
Oxford Blue, Oxford Sailing Club
16 February 2019
You can find out more about the Series here: www.SailJuiceSeries.com
Photo Credits: Tim Olin
Notes to editors:
Current and previous winners of the Seldén Sailjuice Winter Series
2017/18 Alistair Goodwin (Laser)
2016/17 Matt Mee & Emma Norris (RS200)
2015/16 Ian Dobson & Andy Tunnicliffe (GP14)
2014/15 Nick Craig & various crews (Merlin Rocket)
2013/14 Michael Sims (Solo)
2012/13 Tom Gillard & Simon Potts (Fireball)
2011/12 Peter Gray & Rachael Rhodes (Scorpion)
2010/11 Andy Peake (Musto Skiff)
2009/10 Olly Turner & Richard Whitworth (Merlin Rocket)
SailJuice.com is the 'how to sail and race faster' website, with hundreds of articles and exclusive interviews with National, World and Olympic Champions. Professional sailing journalist and editor of SailJuice.com, Andy Rice, came up with the concept of the SailJuice Winter Series (originally known as the SailJuice Global Warm-Up) as a way of increasing participation levels in dinghy racing during the off-season in the UK.
SailRacer manages event websites and processes online entry for major National, International, Youth and training events, providing online scoring, analysis and advanced sports presentation including GPS tracking and live video.
Seldén Mast Ltd is the world leader in dinghy spars. More races are won by Seldén Spars than any other brand. Dinghy spars are made using 6082T6 aluminium with CNC cut tapers, automated welding and heat treating resulting in the highest quality and most consistent dinghy spars available. Seldén produces about 400 carbon masts per year for boats including high performance dinghies and race yachts.
31/1/2019 10:53