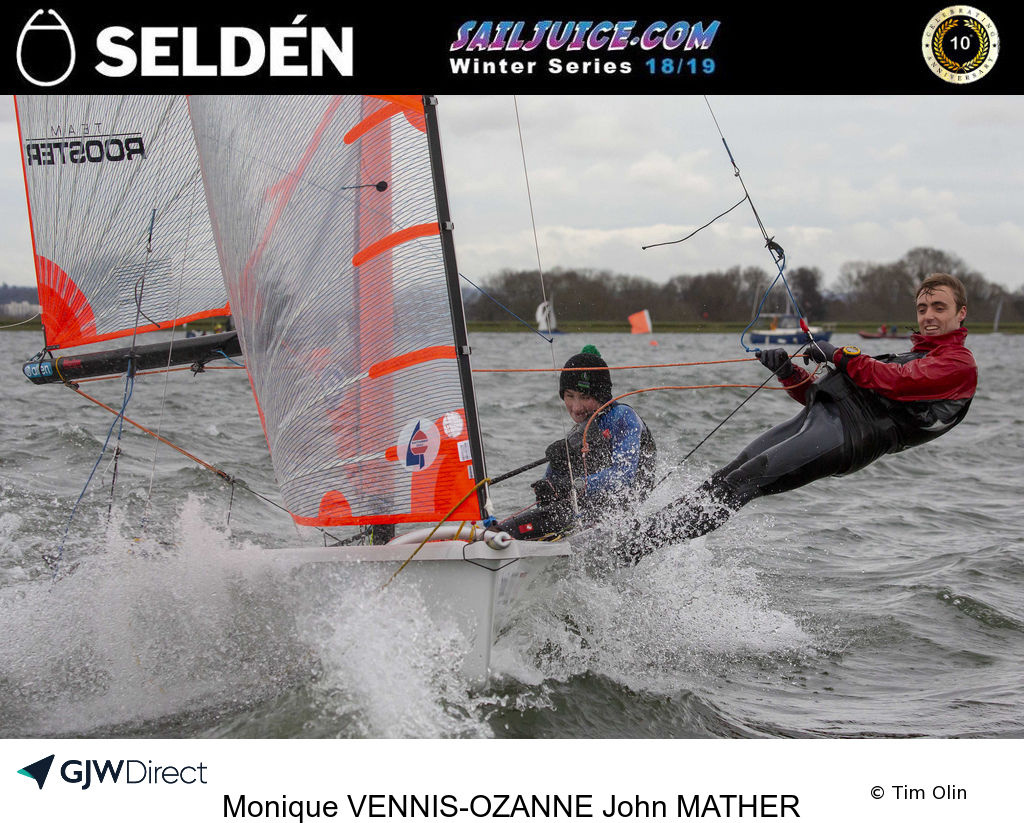 Monique Vennis-Ozanne and John Mather sailed their 29er skiff to victory at the 242-boat GJW Direct Bloody Mary, round five of the Selden SailJuice Winter Series...
Monique Vennis-Ozanne has become the first ever female winner of the legendary pursuit race, the GJW Direct Bloody Mary. Saturday produced a good breeze in West London, with some spiky gusts for the 242 entries, representing 56 classes from 98 clubs. The force three, gusting four and later five made for a lively outing that tended to favour the faster boats who started later in the afternoon.
Topper sailor James Crossley led from the second mark for two hours followed by Cameron Sword and Andy Peng also in Toppers. After two hours the 420 of Jack Lewis and Fraser Hemmings overhauled the Topper. Their lead only lasted 15 minutes until Monique Vennis-Ozanne and John Mather in their 29er flew past them. As the clock ran down to the two and half hour finish, the 49er or Rick Peacock and Nick Murray was closing fast only 20 metres behind. The younger crew kept their heads to become the first 29er ever to win the Bloody Mary… and winning first Junior, first Lady helm, first 29er class prize and winners overall.
Monique Vennis-Ozanne said on coming ashore:
"It's great! I've done it twice before in an RS Feva and a Topper and I can't believe we've just won it! It was pretty hard racing and we're just thinking 'Come on, we've got to go' as the 49er came towards us. It was so close and we know they were catching us, but they ran out of time. It was quite windy so good for the skiffs."
John Mather said:
"It was fantastic! Good conditions for the asymmetrics, a little bit of a wind shift meant we could hold the kite better on some of the runs. We were getting a little bit worried with the 49er and hoisted the kite on the penultimate run, but had to drop it a bit early, so it was nerve-wracking at the end. I've done it a few times, including in the Toppers at the front, so we knew to avoid the more traditional boats, stay out of the way and do our own thing. I learnt to sail at Wimbledon Park and sailed at Queen Mary quite a bit so am quite familiar with the wind and how shifty it can be – you've got to be ready for anything as the shifts can hit quite quickly. I'm sure the feeling of now winning the Bloody Mary will sink in when we've got the trophy home!"
Full Results
Well done to all who took to the water today. The Top 10 places were:
29er (2661) Monique Vennis-Ozanne and John Mather
49er (224) Rick Peacock and Nick Murray
29er (2433) Oliver Evans and William Garman
420 (54487) Jack Lewis and Fraser Hemmings
420 (55242) Megan Ferguson and Bettine Harris
RS800 (1166) Ralph and Sophie Singleton
2000 (22334) Simon Horsfield and Katie Burridge
Laser (214100) Jack Hopkins
Musto Skiff (544) Ben Schooling
Osprey (1356) Ben and Simon Hawkes
First Lady Helm: 29er (2661) Monique Vennis-Ozanne
First Queen Mary Helm: RS400 (1441) Mark Oakey
Grand Master: Merlin Rocket (3764) Tim Fells
First Junior Helm: 29er (2661) Monique Vennis-Ozanne
Class prizes were also awarded to:
29er (2661) Monique Vennis-Ozanne and John Mather
RS Aero 7 (2439) Tim Hire
RS 200 (1688) Maria Stanley and Toby Lewis
RS 400 (1441) Mark Oakey and Dan Martin
Solo (5675) Tom Gillard
Topper (48232) James Crossley
D-zero (66) Nick Craig
Laser Radial (204122) Andrew Kerr
Laser (214100) Jack Hopkins
Next event on the Seldén SailJuice Winter Series is the John Merricks Tiger Trophy, Rutland Sailing Club which takes place on 2/3 February.
THE EVENTS
The following events constitute the Seldén SailJuice Winter Series 2018/19:
Fernhurst Books Draycote Dash, Draycote Water Sailing Club
17 & 18 November 2018
Datchet Flyer, Datchet Water Sailing Club
8 & 9 December 2018
Brass Monkey, Yorkshire Dales Sailing Club
27 December 2018
Grafham Grand Prix, Grafham Water Sailing Club
30 December 2018
Bloody Mary, Queen Mary Sailing Club
12 January 2019
John Merricks Tiger Trophy, Rutland Sailing Club
2 & 3 February 2019
Oxford Blue, Oxford Sailing Club
16 February 2019
You can find out more about the Series here: www.SailJuiceSeries.com
Photo Credits: Tim Olin
Notes to editors:
Current and previous winners of the Seldén Sailjuice Winter Series
2017/18 Alistair Goodwin (Laser)
2016/17 Matt Mee & Emma Norris (RS200)
2015/16 Ian Dobson & Andy Tunnicliffe (GP14)
2014/15 Nick Craig & various crews (Merlin Rocket)
2013/14 Michael Sims (Solo)
2012/13 Tom Gillard & Simon Potts (Fireball)
2011/12 Peter Gray & Rachael Rhodes (Scorpion)
2010/11 Andy Peake (Musto Skiff)
2009/10 Olly Turner & Richard Whitworth (Merlin Rocket)
SailJuice.com is the 'how to sail and race faster' website, with hundreds of articles and exclusive interviews with National, World and Olympic Champions. Professional sailing journalist and editor of SailJuice.com, Andy Rice, came up with the concept of the SailJuice Winter Series (originally known as the SailJuice Global Warm-Up) as a way of increasing participation levels in dinghy racing during the off-season in the UK.
SailRacer manages event websites and processes online entry for major National, International, Youth and training events, providing online scoring, analysis and advanced sports presentation including GPS tracking and live video.
Seldén Mast Ltd is the world leader in dinghy spars. More races are won by Seldén Spars than any other brand. Dinghy spars are made using 6082T6 aluminium with CNC cut tapers, automated welding and heat treating resulting in the highest quality and most consistent dinghy spars available. Seldén produces about 400 carbon masts per year for boats including high performance dinghies and race yachts.
14/1/2019 10:36